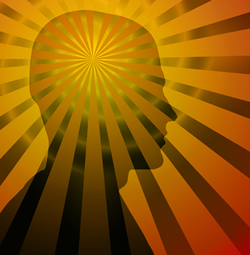 We often choose to ignore the real power of our thoughts, because if it's true, what do we do with our excuses?
–Dennis Collins
"I'm too old."
"I'm not smart enough."
"I don't have time."
"I'm too poor."
"I can't lose weight."
"I tried that already."
"My (boss, spouse, kid) is driving me crazy."
Familiar?  Do you recognize some old friends here?
We spend most of our time in the comfort zone of negativity.
If you think a negative thought, make an excuse or make a negative request of the universe, it will be granted.  The mission of a thought is to fulfill the intent of the thinker.
There are two kinds of thoughts: Empowering and Limiting. The strongest limiting thoughts:  Fears, Doubts and Worries.
We fail to reach our potential mainly due to our inability to conquer our limiting beliefs.
Good news.
Thoughts and beliefs are changed by choice.
What we get in life is what we look for. It's possible to find anything that we look for.  By changing what we look for we can quickly and radically change our lives.
–Dennis